TRANSMISSION CURVES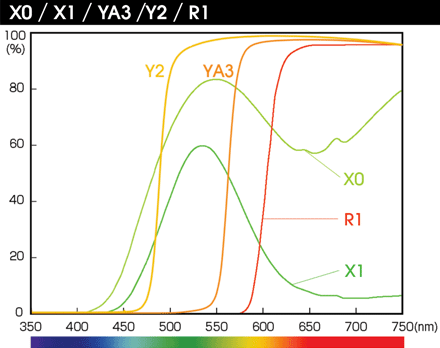 Used primarily for black and white photography. XO is highly effective for outdoor portraits because red is rendered dark while green appears lighter.
Great for correcting skin tones, bringing out facial expressions in close-ups and emphasizing the feeling of liveliness. X1 is highly effective for indoor portraits under tungsten lighting.
FOR COLOR FILM:
These filters, such as K2 (Yellow), G (Orange), 25A (Red), X0 (Yellow/green) and X1 (Green) are primarilly designed for use with Black & White film. However, they can be used with color film to produce special color effects.
Y2 Pro filter especially useful for clear contrast between blue sky with clouds and foreground. Provides a natural tonal rendition. Often used for subjects at intermediate distances.
YA3 Pro filter increases contrast between reds and yellows. Particularly useful for distant outdoor shots taken with a telephoto lens. Also useful in color photography for spectacular sunsets, seascapes, etc.
R1 Pro filter especially effective for increasing contrast. Ideal for dramatic cloud effects in landscapes. Can also be applied creatively in color and infrared photography.
HMC (HOYA MULTI COATED)
These popular filters are renowned for their ability to minimise reflection at the filter surfaces which reduces flare and ghosting. The result is an average light transmission of over 97%, giving sharp contrast and well balanced color. HOYA HMC filters are recommended for enhancing the performance of today's multicoated lenses.
Attention: Be aware of counterfeit filters
Attention: Be aware of counterfeit filters
In order to avoid purchasing one of those counterfeit filters we highly recommend to purchase only from official retailers that are recognized by HOYA's official global distributors. Prior the purchase kindly inquire and verify whether a retailer is authorized by HOYA global distributor. You may find the contact in the HOYA global distributors list.