TRANSMISSION CURVES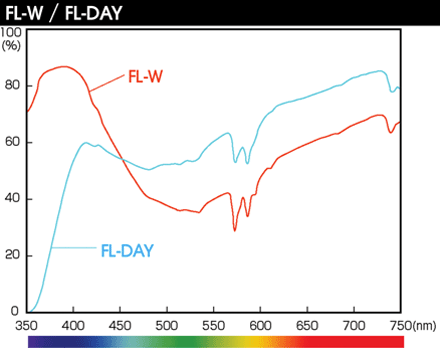 Used to correct the greenish tone that appears when daylight type film is used under fluorescent lighting. FL-W is for use with warm white or white type fluorescent lamps. It is recommended that auxiliary light sources be used when long exposures become necessary due to insufficient light.
HMC (HOYA MULTI COATED)
These popular filters are renowned for their ability to minimise reflection at the filter surfaces which reduces flare and ghosting. The result is an average light transmission of over 97%, giving sharp contrast and well balanced color. HOYA HMC filters are recommended for enhancing the performance of today's multicoated lenses.
Attention: Be aware of counterfeit filters
Attention: Be aware of counterfeit filters
In order to avoid purchasing one of those counterfeit filters we highly recommend to purchase only from official retailers that are recognized by HOYA's official global distributors. Prior the purchase kindly inquire and verify whether a retailer is authorized by HOYA global distributors. You may find the contact in the HOYA global distributors list.