TRANSMISSION CURVES
The UX UV filter with newly added water repellent coating is a redesign of the HMC UV(C) filter, now integrated into the new entry class UX series along with the CIR-PL Slim filter. The UX UC filter is a completely new concept design product targeting the entry class users and providing high quality standards with basic and contemporary functions.
"UX" in the series name stands for "User eXperience", as to indicate all the experiences that users will acquire through using these filters and all that comes with. By naming this series UX, we aim to offer users better individual experiences through all the activities connected with photography.
Though not visible to the naked eyes, UV rays may affect the image when shooting in locations like seaside or mountainous environments, resulting in blurred contours or faded and whitish images.
UV filters can suppress the UV spectrum contained in daylight that mainly causes poor effects on the images. This filter can be used with both film and digital cameras, and assures more vivid images. In addition, by keeping it constantly attached, this filter serve as everyday lens protection.
Main features
Anti-reflection coating
Anti-reflection coating prevents unwanted reflections and increases light transmittance.
Water-repellent coating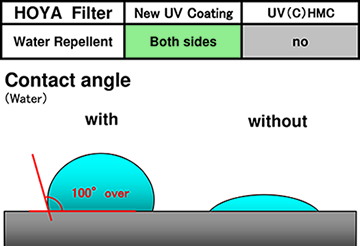 Water-repellent coating has been added to the anti-reflective coating. This coating repels water drops and makes easier to clean the filter surface from dirt or fingerprints.
Slim frame
The slim frame assures no vignetting even for wide angle lenses.
---
Click here to check the HOYA filters comparison chart to choose the right filter for purchasing.
Attention: Be aware of counterfeit filters
Attention: Be aware of counterfeit filters
In order to avoid purchasing one of those counterfeit filters we highly recommend to purchase only from official retailers that are recognized by HOYA's official global distributors. Prior the purchase kindly inquire and verify whether a retailer is authorized by HOYA global distributor. You may find the contact in the HOYA global distributors list.